That's neat and all, but I thought this was going to be about Nelson Muntz
You did?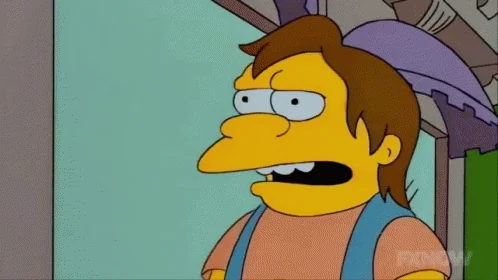 Of course a really deep ha-ha is called a ho-ho.
Metaphorically, "privilege" is a kind of mental ha-ha wall: Inside of the walls you can't really see the ways in which you are hemmed in. It all looks like normal flat ground, all the way out. "Why can't 'those people' just pull themselves up, do what I've done?" It's effective because it's invisible: you don't see it and it's as if it isn't even there. The people on the other side of it look like they should be able to walk right in. But of course they cannot, and from the inside it's hard to understand why not.
Yep

His efforts in landscape design are especially noteworthy, and the Ankh-Morpork palace gardens are considered to be his greatest accomplishment. It is here that there are such creations as the hoho, which is a fifty foot deep ha-ha, the gargantuan beehive currently used as a pigeon coop in the absence of ten foot long bees, a structure referred to only as the "Johnson Exploding Pagoda", iron patio furniture that melted and crazy paving that committed suicide, and the chiming sundial that also tends to explode around noon. In the palace grounds is also a maze so small that people get lost looking for it. Another notable feature is the ornamental trout lake, built long, but, sadly, only one inch wide. It currently houses one trout that is quite content provided it doesn't want to turn around. "Perfect for the dieting fish". At one point there was also an ornate fountain which, upon being turned on, did nothing but groan ominously for several minutes before firing a small stone cherub a thousand feet into the air.
There are a few houses in my neighborhood that have mini ha-has (

). Makes me wonder if the landscaping style isn't a middle-class pretension to grandeur… Or maybe a similar function in that it hides the ditch by the road from view?
Indeed, a last-ditch effort.
Came here for the BS Johnson reference and was not disappointed. Thank you kind sir or madam, or person of loosely defined gender.
Needs more exclamation marks.

"The Commission de toponymie du Québec asserts that the parish's name refers to nearby Lake Témiscouata, the sense of haha here being an archaic French word for an impasse."
" Saint-Louis-du-Ha! Ha! is the only town in the world with two exclamation points in its name."
So, it's like an infinity lawn?
Thank you, doubt i could resist mentioning it even if i wanted to

I was just popping in here to mention this. This used to be one of the highlights on the long drive from Toronto to rural New Brunswick to visit my wife's family.
"Multiple exclamation marks,' he went on, shaking his head, 'are a sure sign of a diseased mind."

― Terry Pratchett, Eric
If you find yourself in a place with five, run.
! ! ! ! ! !
I'll give ya a head start…
SOMETHING there is that doesn't love a wall,
That sends the frozen-ground-swell under it,
And spills the upper boulders in the sun;
And makes gaps even two can pass abreast.
The work of hunters is another thing:
I have come after them and made repair
Where they have left not one stone on stone,
But they would have the rabbit out of hiding,
To please the yelping dogs. The gaps I mean,
No one has seen them made or heard them made,
But at spring mending-time we find them there.
I let my neighbor know beyond the hill;
And on a day we meet to walk the line
…
-Robert Frost
It's impossible to drive by that town without yelling out (deep, from the belly) the Ha! Ha!