When I want "devil/satan", I go to comics/anime/illustrated novels. Haven't been disappointed yet… /s
Man, this is the third, fourth? moral panic that has aimed at me from the religious freakazoids going all the way back to the evils of D&D when I was in 3rd grade. they really are a broken record.
P.S. I started with the Videodisk of Akira that my tech teacher had, and never looked back.
How much do you want to bet this guy is secretly into hentai / tentacle porn?
What is it with these fascist nuts and their love of jet-black beards that look like they were purchased at a Halloween costume warehouse?
American Xtianist theocratic fascists are slaves to this country's youth culture. They also want to distinguish their beards from those of their Islamist theocratic fascist counterparts in the Middle East, who have the confidence to let theirs go grey.
It keeps working for them.
By the way Satanik was an ITALIAN comic with grotesque horror/sexy theme, basically a gender swapped dr.Jeckill and mr.Hyde. A low budget B-movie was made, with cringey praticall effects and plot holes
Matt Walsh is one of those guys who is in dire need of the Alex Jones treatment.
Also, considering his obsessions with trans teenagers and threatening children's hospitals and the never-wrong principle of "It's always projection with conservatives," he probably deserves something a hell of a lot harsher than just getting sued.
weird just like bizarre, creepy.
xenophobia kinda fits his bill.
I think it's all satanic.
No, no, no, it is about fighting demonic forces.
With with rare exception, adults really shouldn't be watching cartoons in general, I would say
I say this with every fiber of my being - get fucked.
Guy worships a book about a zombie son of God and then drinks the blood and eats the flesh of said zombie son… thinks anime is creepy.

I would argue that it does not work nearly as well as it did back in the 50s, though. The moral panic over rock (which was really about integration that rock music represented - white kids consuming Black culture) or comic books had more real world consequences (more for comics, I'd argue). That era saw the implementation of the comic codes. And there were congressional hearings over this stuff that had pretty bi-partisan support. I doubt that would happen now, and the Democrats are not onboard with this panic - it's having an impact for sure, but mostly in red areas and in particular families. I'm not sure the 80s moral panic over D&D got much further than that either.
Now, don't get me wrong - we push back against this stuff where ever it crops up, HARD, because it can get worst. But I still would argue that the 50s was the worst of it thus far. The big panic I'm worried about is related to trans kids, as that is incredibly dangerous, targeting an already marginalized group that some don't understand… Perhaps for people like Walsh, these subcultures just all run together (since they tend to be more inclusive and diverse) and so he targets them all?
No, no, no… Jesus is a vampire…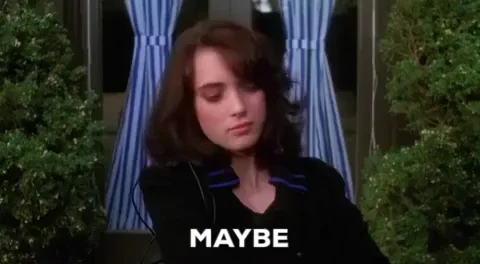 Definitely not a zombie, tho.
Hmmm… how does Matt "What is a Man" Walsh seem to me?