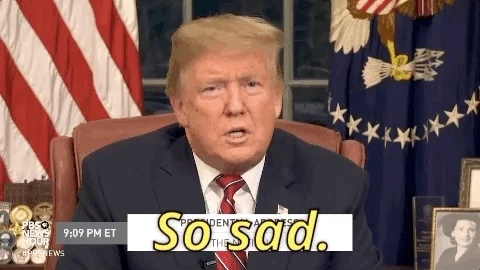 Your periodic reminder that the Trumps are grifting all the time across many different orders of magnitude. They have nothing productive to say and produce nothing useful; all they are is a machine built to remove money from the bank accounts of simpletons who can ill-afford it.
So wait, according to the all-knowing anti-vaxx genius network, breathing with a mask on is bad because it blocks your exhalations and creates a closed loop that increases your COVID viral load, but drinking your own piss…is good?
This guy is a piece of work…
He seems par for course as a MAGAciple.
I do appreciate your blurring that.
Sadly, it did not save me.
"Too fast, curious finger!"
Perhaps it will save someone else - I can only hope.
I can't recall Chelsea Clinton or Malia and Sasha Obama or even the Bush twins ever charging huge sums of money to have an "intimate meal" with people who were fans of their fathers but I think I can guess some of the names conservatives would call them if they tried.
It's not clear whether or not he received a full refund.
I calculate a 0% chance he gets anything back. Grifters always gonna grift.
Some folks have to undergo a health review when they're booked into the system. Maybe Trump would be gracious enough to let him have a cup of his pee?

But, but Hunter Biden! Obviously no one is paying Junior $500 (and certainly not $11,000) just to have a meal with a mediocre-at-best 2nd generation real estate nepo baby. They're doing it because he's the former (and possible future) president's son and they're explicitly being told they'll be able to gain access/curry favor with the ex-guy. Which, hmmm, seems like something conservatives were pretending to be upset about when they accused Hunter Biden of doing it, and they couldn't even plausibly argue that the people paying the money might get a meeting with the former VP (or that Biden might even be aware of any of it).
Yet again, the Trump family does out in the open, what they (implausibly) accuse others of doing secretly.
Don't order the lemonade at Mar-a-lago!
The guy should skip Trump and go see Robert Mercer.
TIL that even Trump has a line he won't cross. Who knew?

Ohh it wasn't trump's decision.
Guessing Secret Service stepped in and said "This guy is unhinged and owns a flamethrower."

If he uses a straw for his pee he puts a whole new spin on the word "sucker".
omg i would love to hear a refund demand. then it wasn't really a donation was it?
Bet this kook still unquestioningly idolizes his tangerine god-king, though. Probably even more than before.
Wow, I haven't wanted to see two people to get together this much since Pam and Jim. #madeforeachother
In case anyone was thinking otherwise, the urine drinking is a widespread alt-med practice, not some crazy isolated quirk for this clown. This is what happens when you let anti-science run amok.