What is that thing in Fairlamb's mouth in the photo?
His butt-plug, is my guess.
Fairlamb's attorney, Harley Breite, blamed right-wing media for influencing his client.
For someone who prides himself on his expertise for giving an honest legal defense for his despised clients, that's pretty weak. I'll follow his lead and blame it on a client who's more despicable than he's used to.
How does that old conservative adage go, "Ignorance of the law is no defense"?

He's way too big an asshole for a butt-plug that small.
Unless you're a cop of course.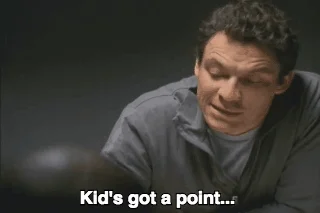 It's the best defense he's got, though.
Not sure who wrote the synopsis for the documentary but it makes the lawyer seem like the PERFECT lawyer for a qnut
One day, Harley meets the woman of his dreams online. She is bodybuilding model, 20 years his junior and she already has a boyfriend. In an attempt to conquer her, Harley embarks on an ambitious quest to prove to her he is more of a man than her fiancé.
Seems to me a person who sees women as objects to conquer would have no qualms about representing a capitol rioter (how well he does his lawyery stuff I dunno)
To them, it's more like 'defence of ignorance is our law'.
That documentary. . . if I didn't know better I'd think it was a parody/mock-umentary.
Yes, similar. It is a less lethal round. A fancy paintball with permanent paint and weighted with powdered bismuth.
---
That lawyer's hair style says: Business in front, 4:20 somewhere in the back. And the glasses look like he stole from from Rodger Stone.
Then he has it in WAY too deep.
Shotgun slug with the plastic wad attached.
ETA I think @Mister44 is correct, I think it's a frangible crowd control round.
But yeah it definitely looks 12 guage in diameter.
These treasonistas should be getting 10-year sentences at a minimum. Trying to overthrow the government is a serious offense. People died. The Puerto Rican protesters got 50-year sentences.
That excuse worked for Don Jr. and his claims that he didn't know it was illegal to work with foreign actors (Russians) in order to get dirt on Hillary Clinton for his dad's 2016 campaign.
Congress: "Mueller has proof that you worked with Russian operatives to get information on Hillary Clinton."
Don Jr.: "I didn't know that was illegal."
Congress: "Oh, well that's totally fine then. Sorry to have bothered you."
It should've been titled "Incel-tion"
If he's as weak willed and stupid as his attorney says he is; he probably isn't capable of living independently anyway.