Don Junior is so dumb that he still doesn't understand that his deranged narcissist dad will never love him, no matter what he does. The Roy kids on Succession have a better chance than he ever will.
Much ado:
Please tell me the maid is secretly switching out Don Jr's eyedrops with Krazy Glue.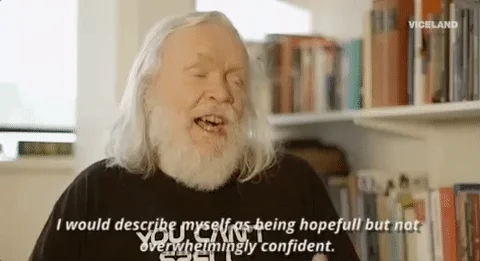 "'Watch Junior perform…"
He's not closing his eyes. He's trying to look down at the script Daddy wrote for him without tilting his head down, which just looks more awkward than going ahead and fully looking down at it. Although what bothered me way more than that was the spasmodic finger quoting.
ETA: Also, why the sudden flood of fresh (old?) Hillary hate? Fox is trying to panic the right into believing she's running again, and this rant, along with Jim Jordan's and a few others, I'm assuming are coordinated with that. This makes me think the GOP has some intel that they're about to get smoked in the midterms, even though I haven't seen any reporting to that effect.
Huh, and here I thought he was trying to prove he wasn't reading from a teleprompter by keeping his eyes closed, but I see what you mean. On the other hand, are we sure he can read?
Well he sure as hell didn't come up with that rant extemporaneously, and I doubt his brain is functional enough to memorize it.
Some possibly relevant reporting: https://www.washingtonpost.com/politics/2022/02/13/trump-politics-weakness/
… Requests from others for Trump to stay out of races in the state have been rejected because Trump has only cared about the "election fraud issue," according to a senior Republican with knowledge of the conversations.
"He's doing endorsements for candidates he doesn't know in races he shouldn't care about," another prominent Republican close to him said. "He's going to end up losing some of these."
That has made DePerno's candidacy a target for many in the state party. A rival for the nomination, Tom Leonard, is a former Michigan House speaker, statewide candidate and state party official, who ended the year with $665,968 in cash for his campaign, compared with $61,179 for DePerno.
Just days after Trump endorsed DePerno in September, a survey by the Detroit News of 740 attendees at a state party leadership retreat on Mackinac Island found Leonard had the support of 48 percent of the crowd, while DePerno was supported by 11 percent."
Yertle is definitely nervous.
He is correct- Trump was right.
Mary Trump.
Who the fuck refers to their father by their last name that they both share? Sad little daddy appendage. Never went through the stage of differentiation to grow to be an individual separate from daddy.
It's probably too late now.
They probably have internal polling that doesn't look great.
The other side of it is you have Mitch being slightly more negative about Jan 6, and a few other people pulling away. Some failures with their Gerrymandered maps and voter suppression.
I suspect they're getting spooked because the Jan 6 investigations are escalating and coverage seems to actually be taking hold with the public. Cause a lot of this started to kick up right around when things started to actually come out of the hearings. All the documents and messages, subpoenas clearing.
The Hillary bits have been a big Q/Big Lie runner all along. Biden is just a place holder or stalking horse. Hillary is perpetually about to run, or miraculously replace Biden. So it's just playing the hits.
Cheeto Mussolini ha sempre ragione!
On the shelf, over Donald the Lesser's shoulder, there appears to be a framed American flag—the kind usually given to a family after a military funeral. Since no one in four generations of Trumps has ever served, how do you suppose he came by it?
I noticed that as well. A case of stolen glory perhaps?
He's so dim that he needs to wear a hat and close his eyes in his own house so that the light won't get in.
An arts and crafts project at Camp Griftalot, where all members of the family spend a summer or two.