And of course…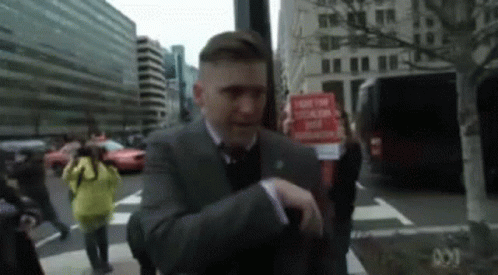 I used to live near there. It's a small, largely rural town of 2000, there are people around there who rarely travel the 70 miles or so to get into the city. For some, a lot of what they know of the city is from Fox, and worse "news sources", that it's a dangerous third world country run by blacks and Jews. They may not have any out gay people in their social circle. There's of course many lovely brilliant people who live in smaller towns than Fishkill, and we know of yuge idiots that live or lived in New York City, but there are some people just a bit outside the city, who don't really know New York City.
You don't have to limit yourself; but the face works well.
And they are almost always highly punchable!
I have also heard it advised that one should use elbows rather than bare fists…
I see what you did there.
Didn't IBM used to have a big presence out there? I mean, it's not exactly out in the sticks, either…
But yes, one doesn't even need to travel all that far out of the city limits…
Yup, also a major plant in nearby Poughkeepsie. It has dwindled as they've been doing much less manufacturing.
Sure, because he was convinced he was the leopard. He was there to eat faces, not the other way around. How dare people reverse the natural order!
Or at the very least intimidating people out of holding/attending the event. That's the most charitable interpretation of what he was hoping to achieve.
@Mindysan33
I seriously laughed out loud at that video - it's a new one to me. The editing of the beat to the beat-down is just…


Truly, I just can't get enough (of Nazis getting punched).
One might make the assumption that they were trying to spark a riot? "incitement to riot" is a seperate crime as well, IIRC…
My aikido instructor was very careful after a takedown an pin demonstration to point out that you were in a position to do an elbow strike to the temple, and that doing so would probably mean that you'd be needing an ambulance, but its destination would not be the hospital.
Good to know.
If I'm ever in a position where I need to 'throw them bows', chances are good that it will be in defense of my own life safety.
… TIL Superman was a documentary all this time
… one key to understanding Fight Club is knowing it's the last thing C.P. wrote before coming out
Indeed. Even with padding, a big part of boxing or martial arts training centres around keeping a clear head when getting hit in the face. It's a lot harder than it looks.