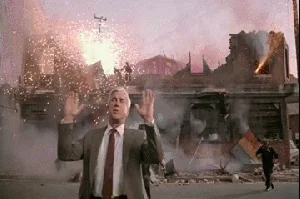 Speaking of which:
The Hanford Nuclear Site is located in eastern Washington State. It's far from Seattle, three hours to the Idaho border, on the banks of the Columbia River, and a couple of hundred miles upstream from Portland, Oregon. . . .

Hanford was home to the US government's gargantuan plutonium operation. The site churned out nearly all of the radioactive fuel that was used in the country's nuclear arsenal. Like a ceaseless conveyer belt, Hanford generated plutonium for nearly four long decades, reaching maximum production during the height of the Cold War. Now, however, Hanford no longer produces plutonium. Instead, it's a sprawling wasteland of radioactive and chemical sewage, a landmass three times larger than Lake Tahoe. It's also the costliest environmental remediation project the world has ever seen and, arguably, the most contaminated place on the entire planet.

So, why, if this is all true, which it is, have you not heard much about this dismal atomic graveyard? It's hard not to think that the lack of awareness is intentional. How else to explain its obscurity? You've probably heard of Three Mile Island, Fukushima, and Chernobyl. Why not Hanford? Outside of the Pacific Northwest, you're not likely to read much about these wrecked lands, nor are you likely to catch any breaking news about what the hell is going on there. Not only is the site laced with huge amounts of radioactive gunk, but all that waste is also a ticking time bomb that could erupt at any given moment, creating a nuclear Chernobyl-like explosion, resulting in a singular tragedy that would be unlike anything the United States has ever experienced. It's a real and frightening possibility that I, for one, would rather not fathom.
Source: